Welcome 2021 BBR Members!
A special shout-out to all new members to the club.
Please come down and introduce yourselves!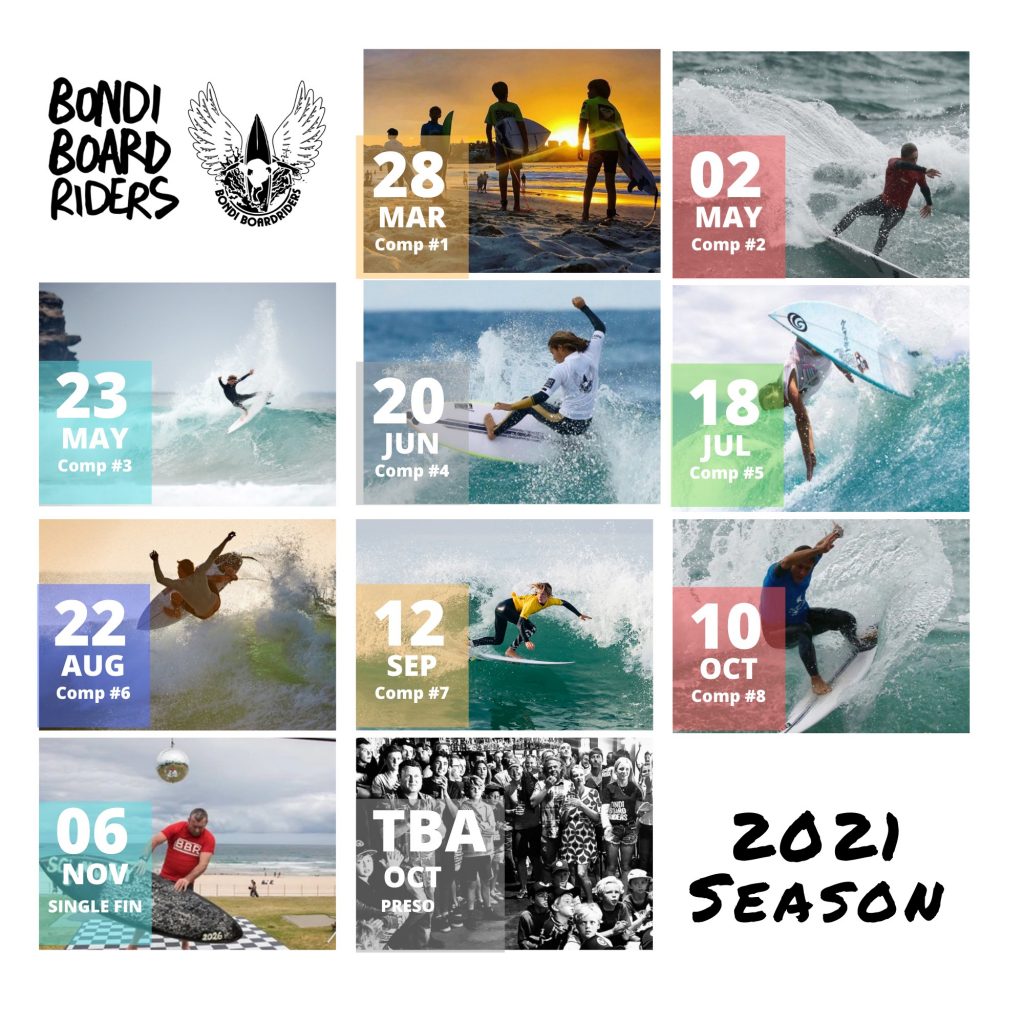 Below we've provided some frequently asked questions and information relating to the comp on Sunday and season ahead.
IMPORTANT INFO FOR THIS SUNDAY
THIS SUNDAY ALL DIVISIONS are required to attend.
Please ensure you arrive 30 minutes before your heat starts.
If the weather or surf conditions require us to cancel we'll inform you via SMS and social media. Usually we make this decision on the day by 6.30am.
SAVE THIS CONTACT INFO
Victoria Austin, Co-President, Contest Director and all rounder.
Preferred method of contact is SMS 0426 774 501 or email or bondiboardriders@gmail.com.
Victoria is your contact for all things BBR or will point you in the right direction.
JOIN US ON SOCIALS
Most reminders, comp rego and upcoming events are shared via socials.
BBR Facebook: https://www.facebook.com/BondiBoardriders/
Instagram: #bondiboardridersofficial
Website: bondiboardriders.com
REGISTRATION & MEMBERSHIP @LiveHeats
LiveHeats is the contest software we use to administer membership, competition registration and scoring. It is a critical part of our operation so learning how it works is crucial to not missing out.
The Monday before every contest https://liveheats.com/bondi will be opened to register your attendance. We will advise you by SMS & socials when this opens. (
You will be required to log on and register your attendance between Monday-Friday of every comp.
Please keep your login information and the division you signed up to membership handy as you will need this when registering your attendance.
Once registration closes (you will be advised when it is closing) the schedule will be drawn, your heats and colour rashie will be visible via your dashboard or via liveheats.com/bondi. We will notify when this is done and typically this occurs no later than Saturday morning, prior to the comp.
Heat draws and times are subject to change. You are responsible for knowing your own heat times. Check https://liveheats.com/bondi regularly for changes.
If you can't make the day, after having registered, SMS Victoria ASAP so she can rearrange heats. As this may also make the day easier to run for all volunteers involved.
Things Happen – don't panic – if you don't register or can not make it please SMS Victoria 0426 774 501 and she will make the necessary changes.
All heats have a 50% progression to the next round. The progression is based on how many in the water and not how many entered in the heat. For example:
If four surfers are judged in a heat, two will progress.
If five surfers are judged in a heat, then three will progress.
If six surfers are judged in a heat, then three will progress, and so on and so forth.
DOUBLE BANKS
Mainly the first and last comps of the year will be run using double banks. This means two heats and two different divisions are in the water at the same time but on different banks in the water.
These are outlined on the day. If you are confused on which bank you are on please ask with plenty of time before your heat starts.
Please also be respectful of the judges at all times but especially when judging two banks as it takes intense concentration. So please leave them to do judging only. Any info or questions you have on banks or scores go through Victoria or another volunteer.
FROGS & TADPOLES
Daniel "Huddo" Hudson is the Division Director. He is available on 0410 538 673
Parents will be advised about a meeting time for both divisions prior to each comp (they may vary so keep an eye out).
Meet at the tents at The Hill, South Bondi and we'll go as a team to a safe part of the beach
No need to collect rashies
These divisions require a parent or guardian to accompany each surfer in the water to assist.
After the contest, we go back to the main area for a 'little presentation' for all the awesome frogs and taddies.
Please remember – this division was created as a fun introduction, for the younger surfers, to the life of club surfing. They will not have progression like the other divisions and we encourage smiles and high fives for all competing in these two divisions.
BYES
Each division has two dates in which they do not compete. This is called a Bye (similar to the NRL). This is due to the fact we do not have enough daylight to run all divisions all year round.
Byes begin on comp 2. We will notify you prior to Comp 2 with a list of all bye divisions and dates and will also be put on our socials and website..
DJ, BBQs, MEET YOUR COMMUNITY
Due to Covid restrictions these are still on hold until further notice.
VOLUNTEERS
We ALWAYS need help with set-up, pack-down, BBQ duty, general assistance throughout the day. If you can help, show up & let Victoria know. It's greatly appreciated!
SPONSORS
Got a local business and want to put back into the local community. If you are keen to sponsor a comp, maybe you have some prizes or services you can offer, don't hesitate to reach out.
Sponsors, please email bondiboardriders@gmail.com to organize a meeting with Ian Wallace, Co-President.
MERCH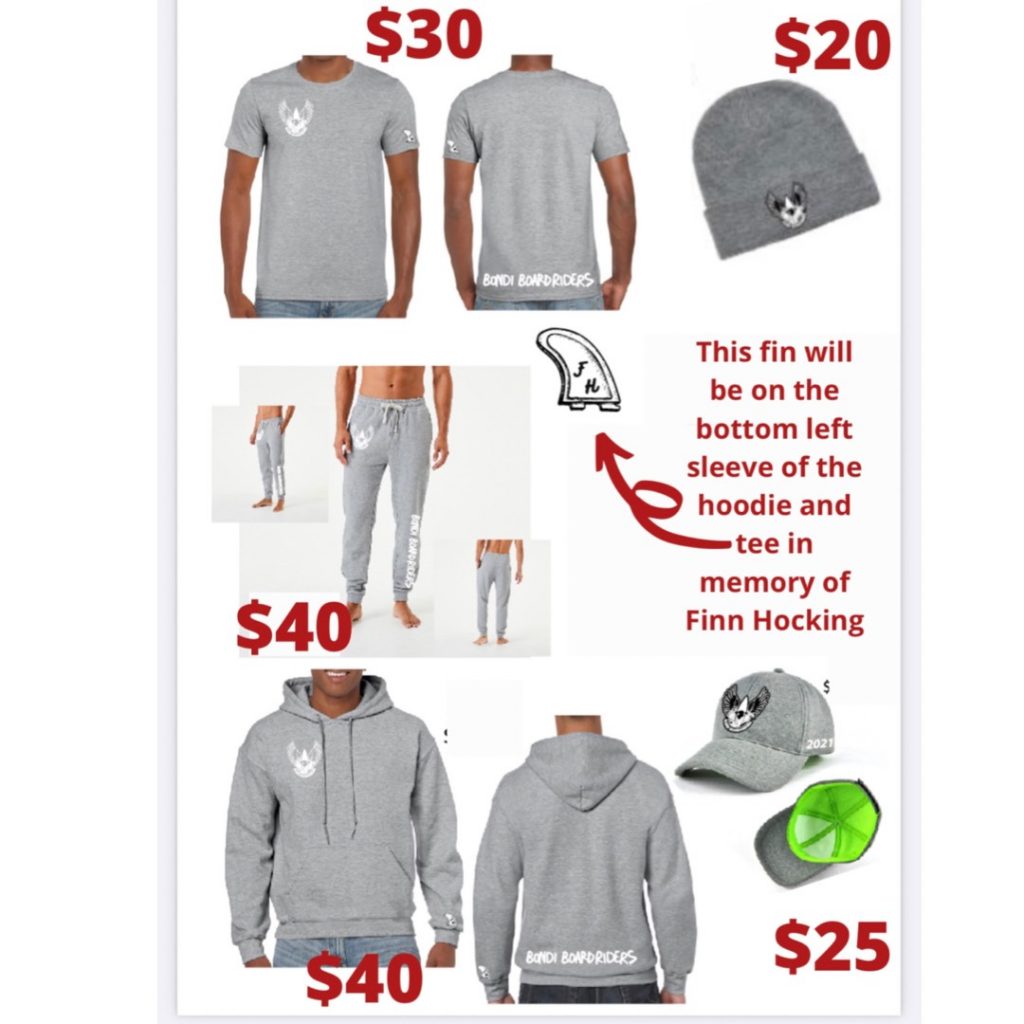 If you ordered merch this will be available for pick-up @ comp 2 – Sunday 2nd May.
We look forward to a great 2021 with you all.
—
From the BBR Team!