Ravesi's
BBR Contest #5 and the Chegg Memorial Paddle Out and Expression Session
is on Sunday 24 July at 7am.  
Heat draws etc on their way.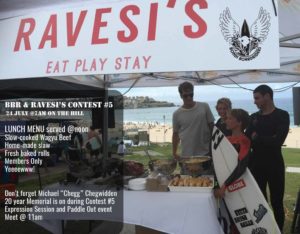 Microgroms have the bye round this contest. 

Chegg Memorial 
https://www.facebook.com/events/287166124962204/
For more information call Ashley Purrington on 0404 146 614
Member News 
Congrats to Perth Standlick on making the semi finals of the Murasaki Shonan Open in Kanagawa Japan
Merchandise 
Hoodies ($70), tees ($30) and hats ($20) [or combo for $100] will be on sale on Sunday also. 

BBR New Bank Account Details 
We've changed to St George Bank, Bondi Beach. New details are:  
Thanks also to all of our wonderful partners & sponsors! 

#bondiboardridersofficial