Note from President Ian Wallace – RE. Upcoming dates for comps & Presso.
Dear All,
With the end of the year fast approaching please lock in the following dates.
21st   October 2018    Comp 8 The Hill 6.30am
4th      November 2018 Comp 9 The Hill 6.30am
10th    November 2018 Gromtag Australian Series. North Cronulla
18th    November 2018 Presentation Ravesis Hotel Bondi Beach
We are very pleased to announce we will be entering two, 5 person junior teams in the Gromtag Australian Series on the 10th November at North Cronulla. This event will see our best under 18's go up against the region's best in order to qualify for the Australian Championships held at Curl Curl on the 24th November.
This Sunday will host our second last contest of the year. The amazing gang from Ravesis will be cooking up a special meal on Sunday for all our competitors so bring an appetite. They also have introduced a great new menu and the views from the restaurant are world class so go take someone special or a group and check it out.
We have also added an extra round on the 4th November being AA rated(double the points). All divisions will be competing in both of these events. The final point score will allow all competitors to drop their worst result.
Our presentation this year will be held at Ravesis on Sunday 18th November from 2.30pm. Stay tuned for further details.
Huge congratulations must go to our community partners the Sydney Roosters taking out the GF in a dominate display over Melbourne. A huge number of BBR members attended the game and enjoyed a night that will never be forgotten.
Thank you to all our sponsors  Ravesis, Surfculture,  Robert Damelian Car buyers, Bondi Tony's Burger Joint, Darren from Chef Daz (thank you for always feeding our hungry surfers every contest), Richardson & Wrench Bondi Beach, Sydney Roosters, Ticketek Australia,  SapphireOne, LiveHeats & Maxum Watches.
Kind regards,
Ian Wallace
President
Bondi Boardriders
This means your division does not surf on that comp.
This is it!!!! After calculation and deliberation's, the divisions that have byes each comp. It's not something I like to do but with the lack of daylight, so we hardly double bank and fairness for everyone it has to be done.
Any issues pls TEXT me, Victoria 0426 774 501.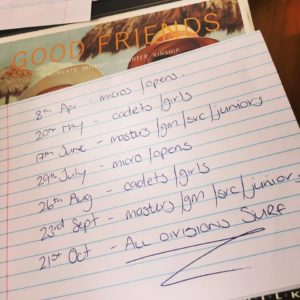 BBR Newsletter August 2017 by Ian Wallace
Dear Members,
The title race for all BBR divisions is heating up and with only 3 contests remaining. It's time to bring your A game!
This Sunday great waves are forecast and with the Barrier Bank looking the goods. These are the days Bondi Boardrider are all about! Registration is now open: www.livwheats.com/bondi – Please note: Opens, Girls and Scum Valley divisions, all have a bye.
We're fortunate to be partnering up with the Sydney Roosters. The Roosters have come on board as a sponsor and we could not be more proud of the association. Currently at No2 on the ladder, this Saturday (19th August) sees them go up against the Tigers at our local ground – Alliance Stadium.  
All club members and associates have been offered a very special deal of discounted tickets (less than half price).
It's a great day out at the Footy we your friends, seeing the chooks, so let's make a Bondi Boardriders day of it.
To take advantage of this great initiative please find a step by step guide, below.
Select: Roosters versus Tigers
Enter: ROOTIG04 into the members password box
Select: $15 Adult and/or $10 Junior
Proceed to check out.
Also coming on board as a sponsor to Bondi Boardriders is Ticketek. We are over the moon to be associated with such an amazing brand . All surfers on Sunday and all those surfers with the bye can come down to the contest area on Sunday and get FREE yes FREE tickets to the Stanford v Rice College Football (Gridiron) game on Sunday 27th August @ Allianz Stadium (Link Below)
http://premier.ticketek.com.au/shows/show.aspx?sh=CFSCHOSP17&v=SFS
They will also be showing the McGregor and Mayweather fight on the big screen.
Muxum watches will be suppling all our divisions winners with their epic watches.
To catch up on the results from the last contest – including some solid waves being taken apart by the Opens – check out all the footage at:  https://vimeo.com/227193730
This Sunday kicks off at 7am with the Micros. We need help setting up, judging and packing up. Do your bit for your club and  let me know (Wal – 0416 251073) you're available to help. It's your club and its only as good as the people in it.
Cheers,
Wal
BBR Newsletter May 2017 by Ian Wallace
Welcome to the month of May's Newsletter. We have a huge weekend of surfing coming up for Bondi Boardriders. Our top surfers will be duking it out in a number of different contests in Sydney while at the same time we have our 3rd contest of the year this Sunday 14th May. Can't think of a better way to celebrate Mother's Day!!! (I am sure Leah can).
13th & 14th May North Narrabeen will play host to the national Sailor Jerry Surftag Finals. http://www.globalsurftag.com/  Being held at one of Sydney's best waves with a great looking forecast our top surfers are biting at the bit to take down the country's best surfers. Captain Perth Standlick will be leading the charge and has the team pumped up "We are not here to make up the numbers we are here to win, and we expect to win".
Whilst on Perth, https://www.youtube.com/watch?v=pY1wJ79snzU  a huge congratulations must be given as he has just qualified for the Cape Fear event at Ours. This is one of the most exclusive contests held with only a handful of the world's best charges being picked. Check out all the action https://www.redbull.com/au-en/red-bull-cape-fear-is-back-for-another-huge-year
Also this weekend many of our top groms will be competing at the https://www.surfingaustralia.com/states/nsw/events/ocean-and-earth-nsw-junior-regional-titles-sydney-southern-beaches-2017 . Best of luck to all those competing in this event. I am sure we will have a few surfers on the podium.
Well done to Grayson Hinrichs who recently got 3rd the Billabong Oz Grom Cup. Philip Courtney one of the event judges sent me the following message. "Hi Ian, Grayson Hinrichs was ripping all weekend (at the contest) and he has a big future in our sport". These are huge words from a judge that's sees the best surfers in the world and his own son Drew was on the WCT.
Ok, this Sunday the waves are looking fun. Due to the amount of people affected by other Comps and Mother's Day we will be giving the bye to Tadpoles, Frogs Cadets, Girls and Opens.  All other divisions are on. Due to all the other events we need our own guys to Judge, please make yourself available and If you have the bye and can help out it would be very much appreciated. All extra hands to help set up and pack away would be awesome. Again it's your club and its only as strong as the people in it and the effort put in. If you can help out on Sunday please let me know 0416 251073.
Apparel!!! Huge thanks to Tim Okkerse  (Treasurer) and Clare Matuska for arranging our 2017 range.  If you pre ordered your gear it will be available this Sunday. We will only be giving out the gear to the pre orders on Sundays comp and depending on stock left over hats and t-shits will be available to the rest of the club at our next contest. If we could get any volunteers to help give out the clothing packs please contact me 0416 251073.
Sunday is our 3rd contest of the year and should be epic with plenty of great waves forecast. On Saturday Bondi will be surfing at North Narrabeen at 10.45am. Bondi Girl Boardriders will be surfing at 2.45pm (Sat). Get there and show your support.
Cheers,
Wal
BBR Newsletter July 2016 by Ian Wallace
Dear Members, Family, Friends and Sponsors
Wow what a year so far
We have been blessed with some great waves so far this contest year and this Sunday is looking SOLID!!!! With the Micro Groms having the bye, it's up to the bigger kids and the 'kids at heart' to show how hard they can charge. Long range forecasts are showing a solid 6-8 ft swell with off-shore winds.
The surfing this year has been nothing short of amazing with our young guns really starting make a huge impact not only locally but all around the country. Lara Damelian, Grayson Hendricks and Nick McGrath are charging and turning heads wherever they surf. Perth Standlick just placed 3rd in the QS in Japan with his sights now firmly on making the WCT.
This Sunday's contest will be in memory of one of Bondi's greatest talents and all around legend Michael "Cheg" Chegwidden, who was taken well before his time. This year marks the 20 year anniversary of his passing and to pay our respects we will be having apaddle out and expression session. Meet at the comp on The Hill at 11am with event commencing at 1pm. There will be some limited edition t-shirts with all profits going to the Cancer Council.
Bondi legend and former World Champion Cheyne Horan is flying down to surf in the contest on Sunday and rip up the solid forecast. He is bringing an all-star Bondi entourage that includes all around Hellman Tony Spanos and more. Tony wants to surf the biggest wave of the day and get the biggest barrels the beach has ever seen. Cheyne is coming in hot with his brand new fins "EZ3" that all Bondi Boardriders members can demo and buy. He will be looking after all members with great deals.
We are also very proud to be at the forefront of innovative surf technology. Being an environmentally aware club we have created a paperless Boardriders and soon to be released contest app dubbed "LiveHeats" that will change the way our Boardriders, clubs around the country and the world will be run. During our last three contests we have been trialing the LiveHeats technology; developed by some of our very own club members (Chris Friend & Fernando Freire) . We are now embarking on the final steps to make this a reality. The LiveHeats app will become our app of choice for running surfing comps, with live scoring, automated heat draws and schedules, and surfer dashboards so competitors can track performance.  By 2017 we hope for this technology to become the main portal for members and spectators to engage with BBR contests and apps. Even down to sharing results and performances on social media, and your friends and family will be able to view live scoring even if they aren't even at the beach or in the country
As with everything new, it all takes time and resource we are currently seeking a Technology Sponsor. If you are any of your friends/businesses can help out we can offer some fantastic sponsor packages that will create unmatchable marketing opportunities for your company on Australia's most famous beach. Please email iwallace@rwbb.com.au for all enquires.
This contest is proudly supported by the legends at Ravesi's. They will be catering this event and Darren and the team will be cooking up another Master dish for all our members to enjoy. Big thanks to Ravesi's for also helping Perth fly to Japan and get a third in the QS.
As per all contests we work very closely with Waverley Council and their policies. This includes no alcohol in public places. The BBR Committee thanks you in advance for adhering to this. Ravesi's is across the road so if you're feeling thirsty this is the place to be. Check out our Codes of Conduct here.
Also if you have not paid your membership fees this is your last chance! All non-paid members will be unable to compete. We know who you are!!!! Don't forget that our bank account details have changed:
Bondi Boardriders
BSB: 112-879
Account Number: 440-320-462
BBR Merchandise will also be on sale on The Hill on the weekend.  Bring your cash. Hoodies $70, Tees $30, Hats $20 or buy all three in a combo pack for $100.  The hoodies are holding up well in the cold snaps. Time to snap them up as they stock won't last.
Ok this Sunday is shaping up to be another epic contest with waves that will test all.
Lastly on behalf of the Bondi Boardriders we would like to pass on our condolences to the family and friends of Blake Hanson who passed away on Saturday after battling a very aggressive form of cancer. Blakey was a loyal friend who loved charging big waves and was phenomenal ocean swimmer. He will be missed by all.
Regards,
Wal
BBR Newsletter Comp 2 1st June 2014 by Ian wallace
6.00am Sunday June 2nd. As the plane circled above Sydney's airways for the 5th time I could see the South East swell filtering into all the nooks and crannies that make up the city beaches. Standing out above all, our little patch of South Bondi was easily recognisable with the BBR tents gracing the hill. The decision to drop everything to chase a swell in Indo with fellow Boardriders Christian Berresa and Mick Marganovic the week prior had taken its toll and as I limped my way threw customs I knew surfing in the comp was probably not going to happen thanks to an infected reef cut and stuffed ankle.
Upon arriving at the comp site on the Hill and not having slept for a day or so the waves looked fun and the groms were going hard at it. The Jet Ski was clearing the line up and the kids were flaring. As I said my hello's to the boys it was great to see in the judge's seat ex ASP top 44 surfer Drew Courtney and his father Phil. Not to many board riding clubs can boast having professional accredited judges, but to have the likes of these two legends presiding over our heats was a blessing and they did not skip a beat all day.
Once again in the Micro's Grayson was hard to miss with his surfing style well beyond his years with Zohar a very close second. It was nice to see the parents really taking an interest in their kids surfing especially knowing they are being watched over by the best judges money can buy.(or at least that we can afford). We have some exiting plans for developing our grommets to the next level and all will be revealed soon.
Pete Kavanaugh in the cadets surfed his final like he was free surfing, with big committed turns he got the nod over Isaac Kreme who surfing very well. In the juniors Tom Lorkin and Sam Anner were the top two with Tom getting the final nod. Both these divisions are so interesting to watch as they seem to be improving not just every comp but by the week. I will be very surprised if there are not at least a few potential future ASP world tour surfers in this bunch.
The girls saw a return to form from media magnate Frankie Lewis who studied the previous month's footage with micro-scopic detail. Her team of sports scientists, coaches and media trainers proved that hard work, dedication and a TV commercial can really turn a year around; we eagerly await her soon to be released documentary and 12 page Surfing Life feature. Her second placing has set her in good stead for another crack at the title but she must overcome young gun Lara Damelian who was the standout of the day and came in first. Everyone's favorite Frechie Diane Cherrier came in a well deserved third and Lian Ellison (personally trained by Cisco) forth and bringing home in 5th these Bondi bombshells is the best needle welding acupuncturist in Bondi Sally Charles. With all jokes aside the girls are a great division, they seem to display a fantastic sense of sportsmanship and are very encouraging of each other and always offer to help out. Good on you girls!
The Masters saw life time local and ex TV star Luke Dyer taking out the division. He surfed on point all day and it was a very well deserved win. He had to overcome Ray Vuko, who looked tired by the final after trying to give out to many Ray hugs (and failing) earlier in the day. No, Ray surfed very well and has apparently already sent the trophy engraver the full spelling of his last name. John Mossdale was surfing well all day but seemed to have peeked in the semi's, I dare say John will contending the trophy as will Jason Burland who came in forth and well below his normal domination of this division as seen in years past. But like all good fighters (and I can assure you JB is) they love a good comeback story and not even Tom Waterhouse is willing to put a bet on this division. Christian Berresa also surfed well and after a week of Indo barrels adjusted well to the right rip bowl just missing out on a finals berth. Eamon to was also ripping; I am not sure how he did not make the finals but his cutbacks have to be some of the best going around. I can not wait to see all these guys going toe to toe in the next event.
The Grand Masters saw the eternally youthful JJ Botella peak at the right time, the goofy footer showed that age has not slowed him down one bit in or out the water. In second place and a finding new territory in a final was our own Numbers man John Adams, John was on his $50,000 carbon fiber, jet propelled black beauty surf board and he put it through its paces, along with his NASA designed wetsuit and infa-red surf goggles he was always going to prove a tough competitor. All his gear was checked after the heat by surfing NSW and it came up clean. When interviewed after the heat, and once his tears of satisfaction had cleared he paid homage to his personal hyperbaric chamber which has seen more injuries than the QLD state of origin camp. Tim Ellis came in third and was last seen heading up Oxford Street to Q bar to celebrate, no one had the heart to tell him that it had been shut for 10 years but I am sure he found a great night anyway. Tim is a charger and all around great guy and following Tim was everybody's favorite Bondi Greek Tony Spanos. Tony is a class act in and out of the water, even in Indo during the week we heard he was apprehending villains stealing stuff from cars back in Bondi. It's really all in a days work for the one time ex Nascar driver/ Playboy dating legend. Not enough kind words can be said about Tony. He has put so much time, money and effort into the club over the years and it's great to see him still making finals. We hope he never goes back to Greece.
The opens saw favorite Perth Standlick unable to compete due to a drinking…opp's sorry and ankle injury. (Jokes Perth in now ranked 16th on the world qualifying tour and hates to party). And it might have been just as well as the new kid on the block Teale Vanner was putting on a clinic in the final and took it out. Another glaring omission from the final was high flyer Pama Davies. He ruled is early heats with his laconic laid back style that seems almost too easy at times. Add this style in with his aerial antics makes him one of the hottest young surfers in the country today. Last months man of the match Luke Musset came in a very well deserved second flying the flag for all the old guys trying to still contend the opens. Also in the final were Casper Ettelson who was surfing smother than a Sade song and big Garth Elliot who was laying rail all day.
And there we have it another action packed day on the hill. Once again the music pumped, the photos clicked and the video's rolled. We have some huge givers to this club and my man of the match this month is split between Ben Davies and Tony Spannos. Ben has the unenviable task of dealing with all the heat draws and seems to head up the (un-appointed) complaints department. I saw him deal with some ridiculous issues last event so please think before you speak and complain. Ben is an ex president of the club and has a very young family of 4, he gives up his Sunday to help the day run smoothly. Tony, well Tony for just being himself. As mentioned he gives way more than he takes and has helped put Bondi back on the map as a serious but fun surfing club. Thanks Tony for all your energy!
A big thank you too all our sponsors……..
Bondi Boardriders is powered by the community for the community.
Wal
Ian Wallace
BBR Newsletters 7 May 2014
Click on Link bellow:
Bondi Board Riders Annual General Meeting 8 Jan 2014
Bondi Board Riders Newsletter 1 (5 Jan 2014)