FRIDAY 10 FEB 2016, 5.00pm – 7.30pm
THE BUCKET LIST
 Half price Kids Meals
$15 Beer & Burger Special 
Registration, AGM, Movies, Grub, Catch-up ….yeeew!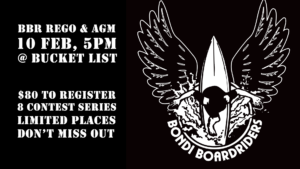 5.00pm Register for 2017
7.00pm AGM – brief formalities and vote in 2017 Committee
7.10pm Club President Ian Wallace to preview the year ahead.
7.30pm Ends
DISCOUNT MEMBERSHIP OFFER $80 per member (one night only) 
WE WILL ACCEPT CASH OR CARD 
We will also be capturing your pre-order for merchandise for 2017
Under 18's must still bring a guardian along
Can't make it on the night? Registrations will be available online after the AGM for 7 days – closing 17 February 2017 at the full membership cost of $120 per person.
See you there!
The BBR Team!